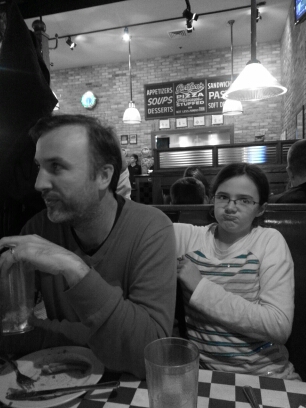 Saw Geetle in black yoga pants and a striped sweater on Sunday.  She looked adorable.  It was not her usual ensemble and she looked like a junior teenager!  Today she had on a novelty belt!  Not one to hold up pants…no…one just for coolness.
Giggles has been working on big poster for her birthday party.  Its very elaborate and she is running out of time to finish it.  Tonight I said "hey, lets help Giggles color her birthday sign!" and was pleasantly surprised when Geetle came right over to grab a marker.  It was fun coloring with both my girls.
The other day Geetle came home and told me a long story about a video her teacher showed at school.  I was hilarious, she said!  It was all about 2 baseball fans who are trying to talk about their favorite team but kept messing up because the players had names that were confusing like "Who," "What," and "Why".   Its very cool to hear her describe something she just discovered.
{ 1 comment }