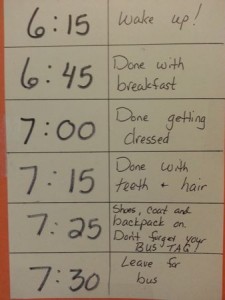 Giggles starts kindergarten tomorrow.  She is ready, academically.  She is eager, socially.  She is all set to go except in one area.
She is not a morning person and is notoriously unable to stay on task and get dressed in the morning without an unfortunate series of encouragements and punishments.
Oh boy.
But, we are going to start the year off strong.  I am hoping that if we establish some basic patterns they give her the opportunity to work on her independence, as well as get her out the freakin' door on time!  The thing is, she is really good when she has boundaries, so I think this plan will work.  If we give her a list of chores, or steps, she treats it like a game and does very well.  So, that is our plan for Kindergarten.
These are the time goals we are giving her for school mornings.  We pasted this schedule next to the microwave clock and the clock in her bedroom.   Wish her luck!