Well…..Friday was my 39th Birthday.
Yes.  Haha.  But no, it was my ACTUAL 39th birthday.  As in…"I was born in 1974."   I'm not really 41 and pretending to be 39.  I am actually 39.  Not that anyone is going to believe me for the next year.  Which is why, if anyone asks, I am going to tell them I am 41.  I would rather people think I am 2 years older than have them think I am vain enough to lie about my age.  (yes, I get the irony…if I say I am 41, then I am lying too.  But its different.  Trust me.)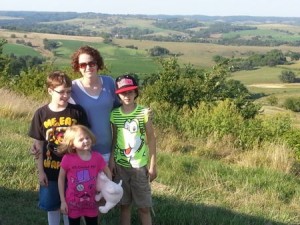 So, to celebrate my 39th/41st birthday we took a weekend trip to Galena, IL. A great little town near the Mississippi River and the IL/WI/IA border area.   Galena is simply adorable and you just want to squeeze its pudgy little cheeks.  As towns go, its quirky, historical, charming, picturesque…all that jazz.  You can click on over to wikipedia to read all about the history of Galena.  I will just tell you a few buzz words:  lead, Grant, riverboats, and tourists.
I defy you to find another single town with the following key features:
a store that sells only Root Beer
a store that sells only socks!
a hologram of a former US president
a 156 step staircase up the side of a hill
30ft tall iron flood gates on the edge of town
over 85% of the city listed on the National Register of Historic Places
We walked some of the steep steep staircases of of the main street, visited the Galena History Museum, took a trolley tour, checked out the park and shops.   I think the kids enjoyed one thing more than the others though.  We also saw a magic show at a small local theatre.  Some of it was over the kids' heads.  I don't think they really caught some of the tricks.  But I know Geetle loved it when the magician asked her (we were in the front row) to hold 2 chalkboard slates during a trick.  He had put a piece of chalk in between the slates and tied them together with a thick cord.  Then he tried to communicate with a local spirit.  The spirit came and levitated the table but then suddenly "left" the room.  When he had told Geetle that the slates might vibrate or wiggle during the spirits visit.  When the spirit "left" he asked her if she had felt anything.  She said "no" but when he took back the slates and untied them….someone had written "Good Bye" on each!  Geetle loved that.
Giggles (also in the front row) was sort of the best and worst audience member all rolled into one.  She kept gasping and yelling "I did not see that coming!  Its MAGIC!  Mumma…did you see that?!"  I think the magician appreciated her enthusiasm, but I also think it threw his rhythm off at least once.  During the ol' 3 card monty/3 cups and 3 balls trick the magician turned the 3 balls into 3 limes, which he gave to the BeAGoodKids.  They all thought that was pretty cool.  Especially later when the magician brought a lady on stage and gave her an orange that turned out to have money inside it…with her name written on it!   The magician said the limes weren't THAT kind of limes…but Giggles and Geetle still asked me to cut one open for them to check.  I don't think Pookie really got any of the magic, but he liked the part where we all had 4 playing cards that we tore in half and threw into the air.  That's big fun if you are Pookie.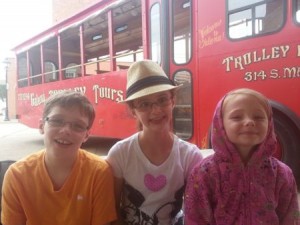 I think Pookie's favorite part of our trip was actually the open air trolley tour.  Knowing how much he loves the Zoo Train, this is not a shocker.  He and Geetle sat in the very last row, hanging their faces out of the window.  I don't know how much of the tour narration sank in, but Geetle did correctly tell me 2 of the 3 jobs held by Ulysses S Grant during his time in Galena (she said "Army and Leather Goods".  I would also have accepted "President")
Here is a delightful picture of the kids outside the trolley.  I could tell you that Geetle is making cross-eyes because she heard the tour guide at the Galena History Musuem mention that Ulysses S Grant's wife Julia was cross-eyed…but no.  Although Julia Grant WAS INDEED cross eyed, it is merely a coincidence, as we had not yet been to the museum at this point in the trip.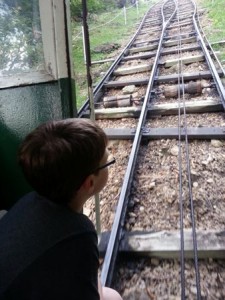 Galena is also fairly close to Dubuque, IA so we spent a day there as well.  We seem to have more fun in the "Why in the world did you vacation THERE?" towns as we do the tourism hot spots, so Dubuque seemed to be just right for us.   We only had one day, so we had to limit our list to just a few places.  We started with an oldie from my childhood, the Fenelon Place Elevator.  I swear this has not changed a bit since I last rode it in the 1980′s…and that is a good thing.  I think it was the same green/white paint scheme back then too.
For $10.50 the entire family rode round trip down and then up the side of the bluff.  At the bottom, we walked a block or so, bought BAGD a coffee and went to a church rummage sale!  (Giggles picked up a dilapidated patchwork bear that needs repair, the church ladies seemed surprised that she wanted it, but she said "my Mom is a real sew-er, she will fix it"…so now I just gotta!)
At the bottom of the elevator is also a rock face which immediately grabbed the kids' attention.  I ride them pretty hard about always being glued to those stupid DS video games, but it makes me happy to see that as soon as they see something like this, they immediately run over and start climbing.  Notice that Giggles even threw her baby, Ginger Snap, cruelly onto the pavement in order to start climbing. 
After the elevator ride, we went down by the Mississippi River to check out the National Mississippi River Museum and Aquarium.  I think this is sort of new…at least it wasn't there when I was a kid.  Its part aquarium and part history museum, focused on steamboat travel, mississippi river settlements and river commerce.  It had a good number of interactive exhibits and the kids really seemed to like it.  We learned that when Barges travel through the locks and dams, they have only 2 1/2 feet of clearance on each side…talk about a tight squeeze!  We also learned that one barge on Mississippi River takes 13 days to travel from St Paul, MN to New Orleans, LA.  It may take a while, but one barge can hold the equivelent of 58 semi loads of grain.  Shocking…then you realize that they tie 15 of these barges together for one trip…so its actually 870 semis full of grain!
The museum is right on the Mississippi River, of course, so there is a nearby place where you can walk right down to the shoreline.  I was surprised to learn this, after seeing how choppy the water is downriver in Davenport, but here it was calm and had a sandy shore.  The kids liked that.
Pookie looked at the water but then went to sit on the steps nearby.  Geetle and BAGD tried to skip rocks.  I thought Giggles was also throwing rocks in the River, but at some point she must have run out…because that is when we saw her inspecting a 24 inch long fish carcass that had washed up on the sand.  Both BAGD and I looked over just in time to see Dr Giggles poke the dead fish and roll it over (with 2 hands…full hands, not finger tips) for a better look.  Here is a nice picture from just before that incident.   We told her that we had to cut her hands off now, and she just rolled her eyes at us and followed me to the nearby public bathroom for a scrub.
After all of this, we headed back to the hotel and spent some time in the pool.  BAGD and I commented on how nice it is to have kids that will sleep in hotels or away from home.  We always worried about that with Pookie, but its never been an issue.  Our biggest issue this time was the girls fighting over the roll-a-way bed and me knocking my knee on it every time I moved around the room.  Our drive home was uneventful as well, except for poor Pookie tripping as he exited the car at our dinner stop.  He fell and knocked the back of his head on the only thing hard within 50 feet….the concrete base of a lamp post.  He got a little goose-egg bump on the back of his head, but recovered alright.  He ate dinner and was singing on the way home (typical for him).  He was surprisingly articulate about the incident, telling us several times "I tripped on the curb and hit my head.  There is a bump here."   Hopefully that will not be all that he remembers about this vacation, because the rest of it was pretty fun!