The kids and I set out today to make something for the Charity Bake Sale at my office this week. Originally, we were going to make little Cherry Pies in 1/2 pint Mason Jars, but I was worried about how long they would last before the crust got soggy. So, we decided on Rainbow cakes in 1/2 pint Mason Jars, a recipe from Babble.
I know what you're thinking. I will be good at this. You are thinking that because you know that I once made an awesome rainbow layer lake for Pookie's 6th birthday. And as it turns out, I am awesome at making things rainbow. What I am not awesome at is estimating the expansion of cake batter in a restrictive container.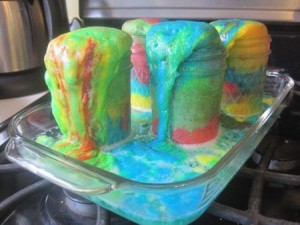 Oh well. At least the kids had fun making them. I threw it all away in the end. The bottoms of the cupcakes were raw and that seemed like a bad idea. But they sure were purty.