This weekend took the BeAGoodFamily to the Quad Cities for a wedding. We set out early and had the very best of intentions of arriving in time for the 1pm ceremony. Unfortunately, we messed up a bit and did not make it to the actual ceremony, but did make it to the reception. Once it became obvious that we would not make it to the ceremony, we found ourselves with several hours to kill in the Quad Cities. Turns out that is not hard to do at all.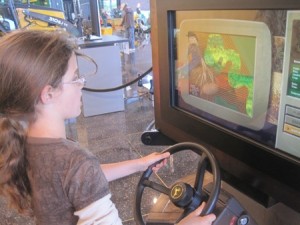 First, you gotta see the John Deere Pavillion. John Deere is headquartered in Moline, IL and has several sites around town. This one is a hit with kids..and free, which makes it a hit with me.
There are about 10 or so pieces of equipment that the kids can sit in and get a real close look at. All 3 kids love that sort of thing, but especially Pookie. There is also a store selling all imaginable John Deere items. We skipped the store, but I bet its a lot of fun.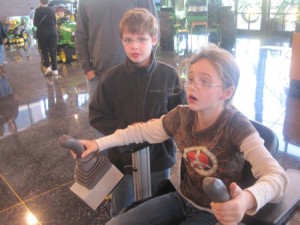 I would say that Geetle's favorite part was the live action simulators, in which you can plant and harvest your own field and try to use a back hoe to fill a dump truck. According to a sign we saw, the Pavillion is being remodeled soon and will be adding more of that kind of thing.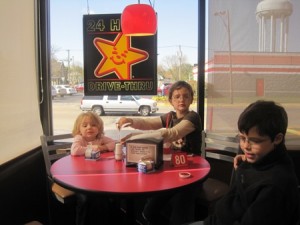 I would not recommend that you take a week's vacation and fly to Moline to see the Pavilion. But if you are in the area, definitely check it out. Its good for 30-40 minutes of free and active fun.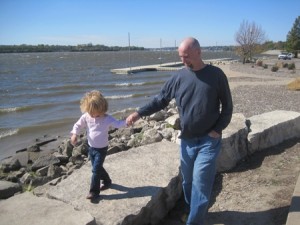 Next, we needed a fast lunch, with a little local flavor, so we headed to Hardee's! Not gourmet dining, but the kids liked it, and we don't have those in Chicagoland. A lady came around and gave the kids all free Cinnamon Raisin Biscuits, which were a hit. They also had 2 SUPER EXCITING things….a TV playing a Gymnastics competition and swivel stools to sit on. Paradise for kids!
After lunch we drove down to the Mississippi River. We drive over the bridge at least once a year when we go to our Iowa Christmas party, but we have never stopped and checked it out up close. As electronically-hyped up as my kids are at times, they do still love good old-fashioned fun (Thank Goodness).
We walked out on the boat slip thingy (the winds were very strong and this was probably not a good idea!) and checked out the Observation Deck. The waves on the River were really rolling. Pookie thought it was the ocean and Geetle commented on how the "tide" was coming in with each roll of the waves. I agree, it was incredibly windy! Luckily, not too cold.
After all that, they spent about 20 minutes just running up and rolling down the hills by the Riverwalk. Good thing we weren't wearing our wedding clothes at this point! We discovered an interesting fact about Geetle…she is incapable of rolling straight down a hill! She tried very hard, but she curved every time. Maybe she is too tall for hill-rolling!
Ok, this next one is another of those "if you find yourself in the Quad Cities" sort of things. ahem….you should go to Antique Archeology! You know…from the TV show, American Pickers.
Its not much of a site to make a pilgramage to, but its fun to see something from TV. There were 12-15 other lookey-loos there, all taking pictures too. The "shop" is super small, about the size of your garage, and half of its a gift shop. Mike and Frank are not there shaking hands (at least not regularly) but I guess they do show up for filming now and then. The site is not what you would expect from TV. Its right next to an A&W!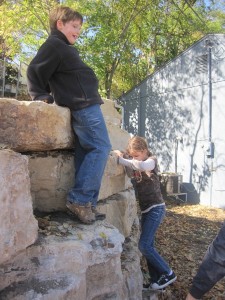 Le Claire looks like a cute little town. Its right on the River, just a few minutes from the Quad Cities. We drove by a river barge on the way and the kids liked checking out the big limestone walls by the Picker's parking lot. Hmmm…more dangerous exploring. I am seeing a theme here. Maybe I am glad we don't live by the River.
After this, we were sort of running out of ideas. Luckliy, BAGD knows the area a little bit (he spent many of his formative years in the area, but a lot of things have changed!). He also drives through a few times a year on his way to the Hawkeye games, and was pretty sure he had seen a "Family Museum" near a pizza place they like to stop at (Harris Pizza…he says its great, not that he has ever brought me home any.)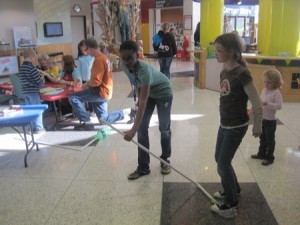 The Family Museum of Arts and Science was easily enough to find, once he got his pizza bearings. We were lucky enough to get in FREE because we have a membership to the Science and Industry Musuem in Chicago and they reciprocate..gotta love that!
Its a small musuem, yes. But very fun for kids. Its just the right size for a few hours of fun, without being overwhelmed. The kids loved making paper rockets (we are SOOOOOO doing this for the twins school birthday party!) and all the hands-on exhibits.
A favorite exhibit was the Magic Mirror. Depending on which button you push, your image is split/rotated/multpipled on the screen. We spent a good 15 minutes goofing off in front of this screen. They also had xylophones, a dress up area, and a turtle exhibit. Giggles loved the underwater turtle tank…she was flabbergasted by the very idea of it!
The Musuem also has a great outdoor playgound. Surprisingly, the kids were not at all tired by this point and spent a good 30 minutes running around outside.
The playground has a water area and they had not turned off the water for the season yet! Brrr! The kids figured out that it was NOT the time of year for super splashy fun, so they just used the water buckets and pump to carefully float some small boats.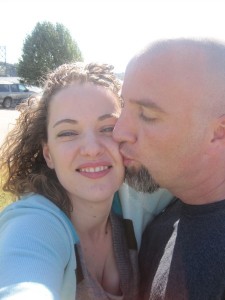 With the kids being so well-behaved and playing nicely, BAGD and I could sit on the bench and do other things. *gasp!* Just kidding! (not really, but sort of.)
By this time, we were getting hungry again, so we decided to pop into the grocery store and get a snack before the reception. We also thought that if we bought a box of crackers, we could go feed the ducks down by a Creek BAGD remebered from his childhood. As it turns out we could not find any ducks, so I ate the crackers!
Actually, we only spent about 5 minutes looking for ducks. The banks of the Creek were so steep that BAGD and I were more scared for the kids there than we had been at the Mississippi River! We left quick!
By this time it was getting time to think about changing and getting over to that wedding reception! After a quick stop at a McDonalds bathroom, we emerged looking fabulous and headed to the party. And what a party it was!
I did not know this about the BeAGoodFamily, but we are superb dancers! Pookie could hardly wait for the Bride/Groom, Mother/Son, Father/Daughter dances to be over so he could get out there and cut a rug. Once we turned him loose, he did not stop for hours. Geetle is also an enthusiastic dancer and was all over the dance floor. Giggles wormed her way into many, many dance circles and just had a great time. There were a few other 2-4 year old girls there and she had a possee right from the get go.
The kids watched the other dancers and I think they learned a few new moves. I showed them how to do the Chicken Dance, YMCA and Shout! Giggles and I had just talked about the Hokey Pokey a few weeks ago, so she already knew that one! The kids were having such a good time that I requested the DJ play either one of Pookie's favorite songs, "Poker Face" or "Ice Ice Baby", but we had to leave before our request got to the top of the list.
All that remained for our Super Fun Day was the drive home. whawha. Nothing like capping a fun day with a 3+ hour drive home! But, as always, BAGD got us home safely…at just after Midnight!
(oh, another funny thing…I told Giggles that a lot of people took their shoes off at weddings, so she kept looking under the table cloths to see who was wearing shoes! That progressed into her laying under the tables as she needed dancing breaks.)