So hard to blog this time of year, don't you think?! There is so much to comment on that its seems overwhelming…so you just don't do it. At least that's the way I feel about it. And there are so many pictures to share, that its hard to come up with witty little words to put around them in the post!
Well, all I can do is try, so here it goes…as random as it may be…
Made some awesome Christmas snack mix that was very popular with the 2 parties we took it to. The big treat were the chocolate covered Bugles. Papa and Uncle Ray were the biggest fans. The girls had a great time making it. It was a long process, but they enjoyed every step.
There is just something awesome about dipping things in melted chocolate, don't you agree? Especially RED chocolate!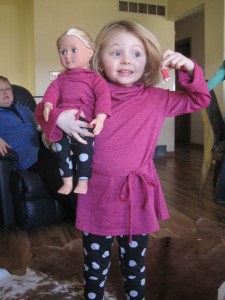 We celebrated Christmas Eve in Wisconsin. We had a great time, as usual. Giggle got a grown-up doll, not a baby one. Her name is Audry-Ann. (and look…the Santa Hat Bugles made it in to this pic too!)Other popular presents included a puzzle ball , a Bop it XT, General Grevious' space ship Lego set, art supplies, a giant stuffed dog, and a Yoda pillow.
Pookie received a gift that really excited him. He had no idea such a thing even existed….Diary of A Wimpy Kid action figures! He's going through a little action figure phase, you know. He has Toy Story, Peanuts, and now Diary of a Wimpy Kid!
He did have one small complaint, however. Pookie's favorite part of the books/movie is when Greg has to ride around in his brother Roderick's van (It doesn't even have seats in the back, he always says). His action figures didn't come with a van, sadly. So he got Aunt Bean to make him one from a toy they found at Grandma's.

We played some board games, ate some snacks and played with all our new stuff. We finished up with a Spaghetti Dinner and some cheezy christmas tree pictures. Big fun was had by all. And that was not even Christmas yet!
Oh boy…read more tomorrow to hear about our other parties!