Today, the girls and I learned an important lesson about resources and the effects of a market economy.  The lesson was that if you need special red melting chocolate (or anything red and/or green) for a Holiday recipe…don't try and buy it on 12-23.
So, our traditional (2nd year in a row we have made it!) Santa Hat Crunch is more of an Elf Hat Crunch this year.  We hope it tastes the same.   And we promise to buy the red candy melts earlier next year.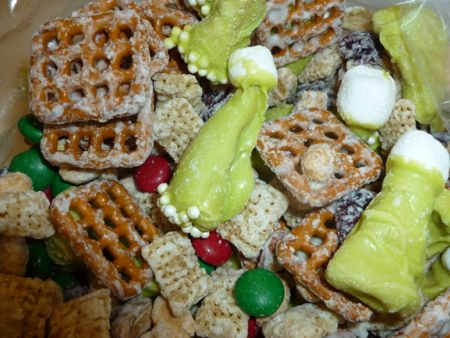 On a related note, we saw "The Grinch" today.  We went with Corn Cob and Shel.  It was Corn Cob's first movie ever!  It was a small town theatre, free showing, crowd full of kids…perfect for a first movie.  And, honestly, I think he did great.  He kept pointing at the screen and saying "Guy!  Green Guy!  Weba…green guy!"  He played with an empty Snow Caps box for a good 20 minutes and sat on 3 different laps.  He did leave early, but only because he wanted to nap before his p.m. Xmas Party tonite.