We borrowed Baby Corn Cob for a sleep over on Saturday night. It was his first one ever, and it went very well. Being not-quite-3, there was some concern about how he would do sleeping away from home without Mom and Dad for the first time. As it turns out, it was no big deal. We pulled Pookie's extra bunk bed mattress into the girls' room and he slept all night with no trouble.
We put him in the girls room for a few reasons. First, although Pookie has an empty (bottom) bunk in his room, his bunk bed also has the traditional ladder up to the top bunk. We knew that there was no way to guarantee that Corn Cob wouldn't give the ladder a try in the middle of the night. In the girls room, we could block off their bunk bed stair case, put Giggles on the floor with Corn Cob and leave Geetle in the bottom bunk. We knew there was no way Pookie would agree to having his bunk bed ladder or sleeping spot modified, even for one night.
Also, and most importantly, putting Corn Cob in the girls room meant that he could be closer to Geetle…his BFF Nanny!
This is a job she takes very seriously. And a job she is seriously good at.
She follows Corn Cob around, making sure he is safe. She makes up games for them to play. She talks to him like he is a tourist and she wants to show off the neighborhood. When he strays off the path of good behavior, she gently distracts him or patiently explains why its unsafe to try and stand on 3 pillows. She talks to him in the most loving voice and truly does not want to be apart from him.
And its not in a cutesy-annoying "Awwwww! Babies are so cute!!! Squeeeee!" sort of way. No. Its all entirely genuine. She considers herself to be his "person" when she is around. All decisions related to his care and comfort are supposed to go thru her. She knows what he likes, she knows what he is capable of. She is keenly interested in his success and happiness.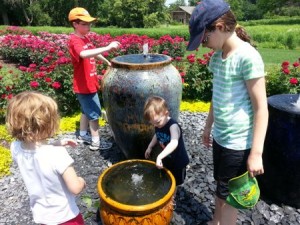 Its the cutest thing ever.
On Friday night we were setting up for dinner and when Corn Cob wanted to sit in the wrong chair, Geetle told him how awesome his chair was and wouldn't it be fun to move over there and sit?
When we went to McDonalds, Geetle told us how Corn Cob would want a chocolate shake…but no whipped cream on top.
On Saturday morning, when Corn Cob woke up and headed out the bedroom door, she jumped up to follow him. They stopped in our bedroom so that Geetle could tell us not to worry, that she would feed him breakfast. (I have a crippling fear of children choking, so BAGD actually supervised, from a distance…sorry Geetle.)
When we visited the Gardens at Catigny on Sunday, BAGD and I talked briefly about which one of us was assigned to each group of kids. (we call that "assigning Fire Buddies" and we have done it since the twins were babies.) When we decided that BAGD would be in charge of Corn Cob as we walked thru the Gardens and I would be in charge of Giggles and Pookie, Geetle promptly butted in to announce "I am on with Dad!" so that she was not separated from her Corn Cob. She showed him funny flowers, gently encouraged him to splash in the fountains and held his hand when he walked down hills.
I've said it before, and I will say it again…she is quite a good Little Mother.